#1: Thug Kitchen Cookbook
Endorsed by Gwyneth Paltrow, Thug Kitchen inspires all of us to eat healthier foods and regularly include veggies in our diet.  This cookbook takes it even further with their excellent recipes!

#2: Lightsaber Chopsticks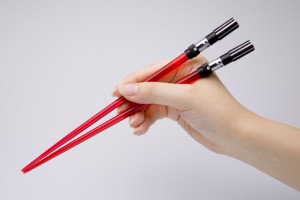 Show off your Jedi chopstick skills at your next dinner party with this pair of Lightsaber Chopsticks!

#3: Personalized Cutting Board: Bamboo Puzzle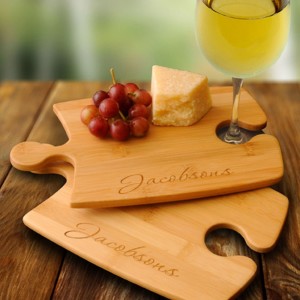 This cutting board shaped like a puzzle piece can be customized with your name on it!  Just be sure to include it in the "gift note" section when you check out on Amazon; you can include up to 20 characters!

#4: Banana Slicer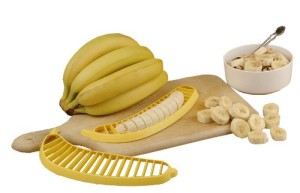 Quickly slice a banana in one motion with this banana slicer!  This is a safer option for children that are too young to be using knives.

#5: Cut Resistant Gloves
Protect your hands from being accidentally cut when you're preparing food with these cut resistant gloves!

#6: Camera Lens Coffee Mug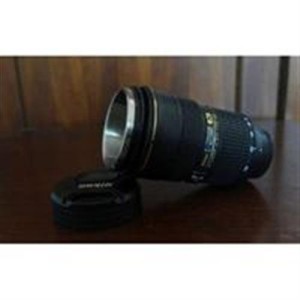 This coffee cup is designed to resemble a Nikon 24-70mm f/2.8 lens on the outside!  The interior is made from stainless steel.

#7: Manatea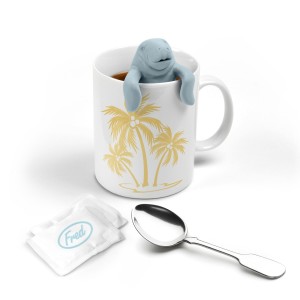 This is a tea infuser shaped like a dolphin.  Keep your tea leaves enclosed inside while they flavor your beverage; others walking by will see a miniature dolphin swimming in your tea!

#8: Chocolate Fondue Fountain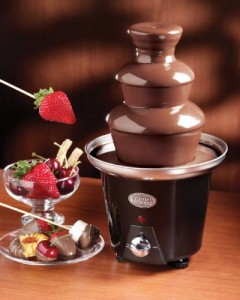 This classic style mini chocolate fondue fountain will be a hit at your next party or gathering!  You can even see the chocolate flowing down from the spout at the top!

#9: Coffee Makes Me Poop Mug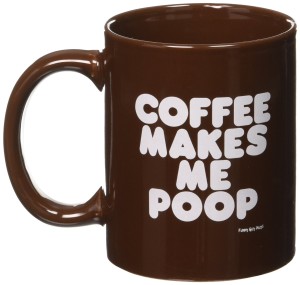 Whether or not coffee really makes you poop, this is a humorous mug to be showing off to your friends especially when they come for a beverage!

#10: Mr Tea Infuser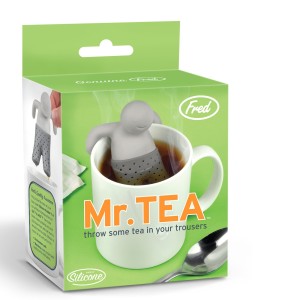 Here's a tea infuser shaped to resemble some dude taking a bath or swimming in your tea!

#11: Coca Cola Glasses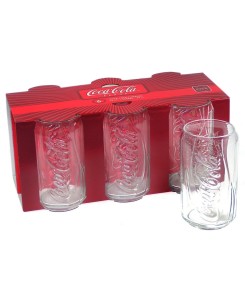 These glass cups have the size and shape of a Coca Cola can including the engraved logo!

#12: Twinkie Maker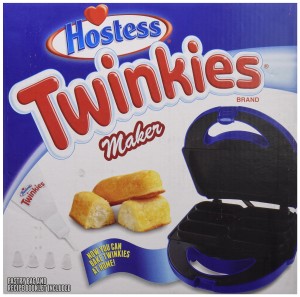 Never worry about running out of Twinkies late at night anymore now that you can make them with the Twinkie Maker!

#13: LED Ice Cubes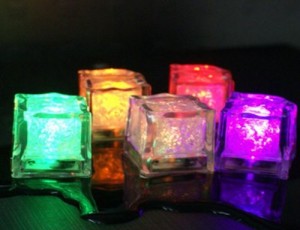 These battery powered LED lights are designed to look like colored ice cubes.  They designed to be safely submerged in most common beverages while giving them a multitude of colors!

#14: Smores Maker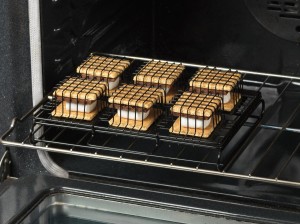 This Smores helps you stack up to 6 different Smores together to be cooked at once in your oven.  They'll be ready in just about 5 minutes!

#15: Walking Dead Coffee Mug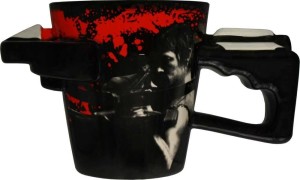 This ceramic coffee mug is inspired by Daryl Dixon's Crossbow from AMC's Walking Dead!

#16: Star Trek Pizza Cutter
Here's a pizza cutter shaped like the USS Enterprise!

#17: Toastbags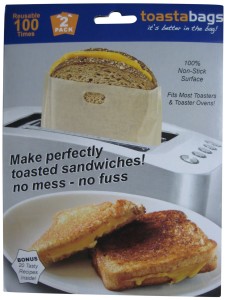 Love making grilled cheese sandwiches and paninis but hate creating a mess in your toaster?  Then definitely give Toastbags!  Each Toastbag can be reused around 100 times and can also be used to reheat pizza, fries, pies, etc. to give them a crispy touch!

#18: Luchador Bottle Opener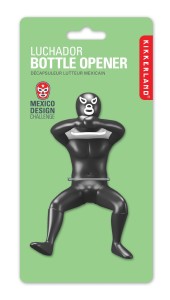 Open your bottle with Luchador applying a lock hold to your bottle!

#19: Pastasaurus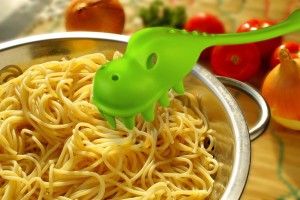 This pasta server with a spoon shaped like a T-rex's head isn't just for snow.  The T-rex's teeth help grip your pasta while the nose and eyes provide openings for excess liquids to drain away!

#20: Moo Mixer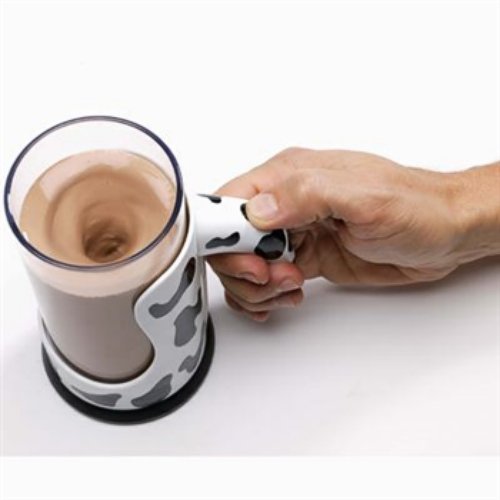 Moo mixer is a mug designed to resemble a dairy cow's patterns on the outside.  It also has a battery powered stirrer like shown in the picture.  It's a fun way to mix chocolate milk and other beverages for your kids!

#21: Candy Cane Spoons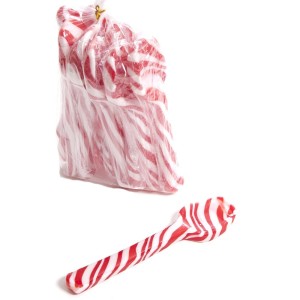 The name says it all: these candy cane spoons are made from peppermint and will dissolve, flavoring the beverage or dessert you're eating!

#22: OCD Cutting Board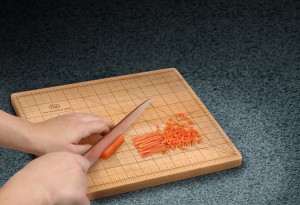 Here's an excellent cutting board for anyone who is obsessed with cutting their foods at the right angles and measuring the sizes of the resulting pieces precisely!

#23: Oh for Fox Sake Mug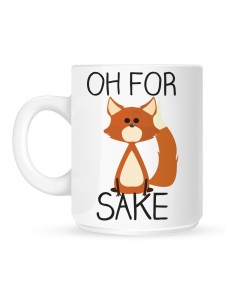 Quite a subtle play on words here on this mug..  even the word "Fox" is replaced with a picture of an actual fox!

#24: Unicorn Sprinkle Shaker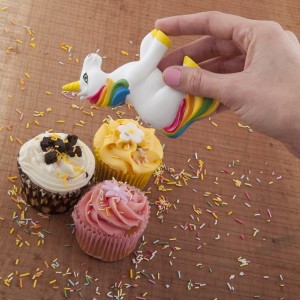 Shake your rainbow colored sprinkles on to your new baked cookies, cakes, pastries, etc. with this rainbow colored unicorn!

#25: Cherry Chomper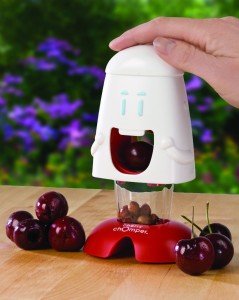 The Cherry Chomper pits a cherry or olive using the downward force of your hand!  Residual juices are collected at the bottom of the container.

#26: Morning Mug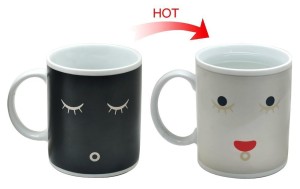 This mug "wakes" up in the morning by going from a black sleepy face to a white happy face.  It basically changes appearance once it detects any sort of hot liquid inside, be it hot water, tea, coffee, or hot chocolate!

#27: Beer Tracker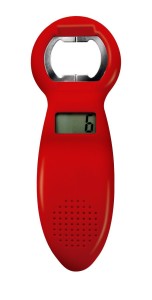 This beer bottle opener has a digital counter that will also help you keep track of the number beer bottles you've opened!

#28: Ice Cream Sandwich Maker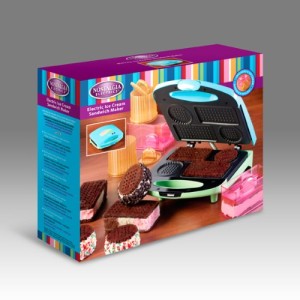 This ice cream sandwich maker is specifically designed to bake the outer cookie covers from scratch!  Now all you gotta do is provide your own ice cream!

#29: Juicy Salif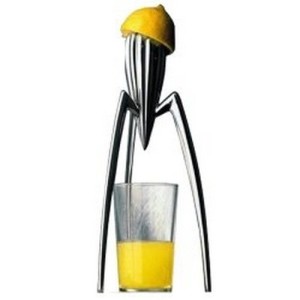 This sleek looking fruit juicer was one of the most controversial of its kind when it came out in the late 20th century!

#30: Grill Sergeant Apron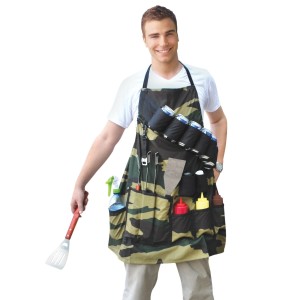 This apron resembling a drill sergeant's uniform is perfect for an afternoon of grilling and cooking.  It's got plenty of pockets for you to keep your spices, seasonings, and other condiments on hand while you cook!

#31: Lightsaber Tongs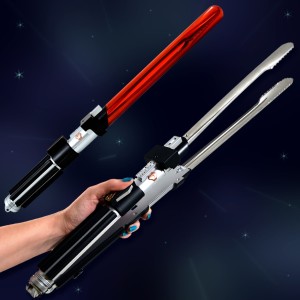 If you ever wanted to barbecue with a lightsaber, then your dreams may have come true!  These lightsaber tongs will even make lightsaber sounds when waved!

#32: Shark Fin Tea Infuser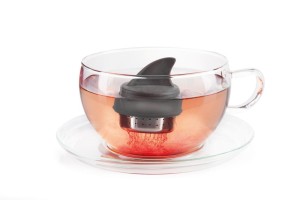 Here's a tea infuser that's shaped like a shark's fin.  To the innocent bystander, it'll look like there's shark floating in your tea!  If you're making shark's fin soup, you can also put some of the spices in the infuser and make it look like the fins are floating in the soup!

#33: Guitar Spatula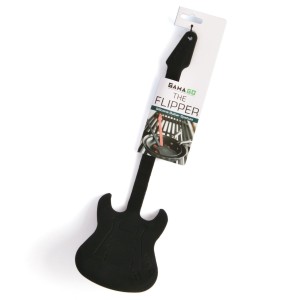 This guitar shaped spatula is perfect for grilling and cooking as it'll stand temperatures of up to 500 degrees Fahrenheit (280 Celsius.)

#34: Chemistry Spice Rack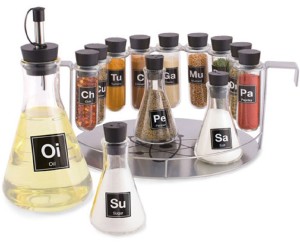 Attention chemists and chemistry fanatics: you can now store your spices and cooking ingredients in these flasks and beakers designed to resemble chemical containers!

#35: Personal Pie Maker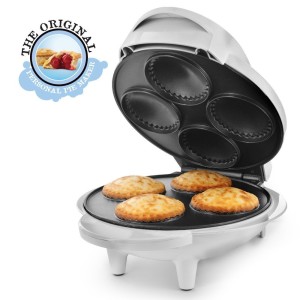 Looks like a sandwich maker, this personal pie maker fits up to 4 mini pies that you can cook all at once!

#36: Motorized Ice Cream Cone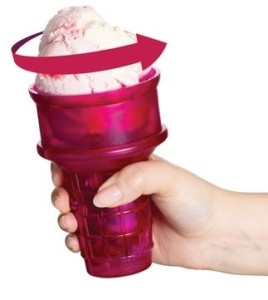 This ice cream cone comes with a motor inside which keeps your ice cream turning while you lick!

#37: Tetris Mug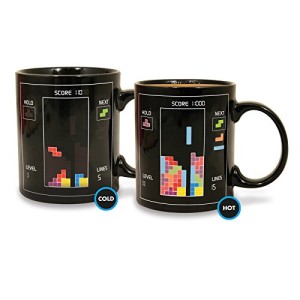 Here's another color changing mug, this time with a Tetris theme!  Watch the game progress as you fill your mug up with coffee or tea!

#38: Totoro Apron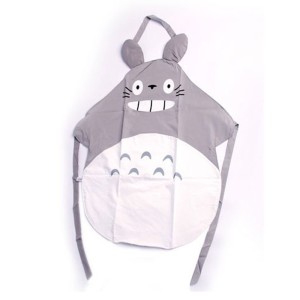 This is the perfect apron for fans of My Neighbor Totoro!

#39: Pixel Heart Mug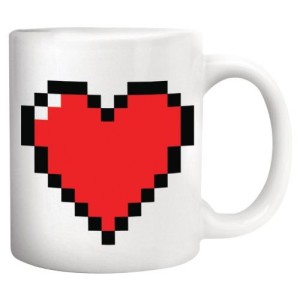 This mug reacts to heat so the big red pixelated heart appears when you've added coffee, tea, or some other hot beverage!

#40: Camera Lens Thermos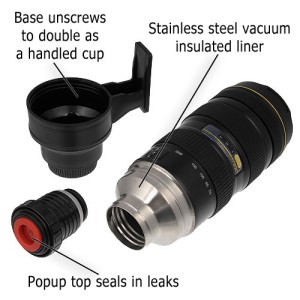 This thermos bottle looks like a replica of the Nikon 70-200mm Lens on the surface!

#41: Vending Fridge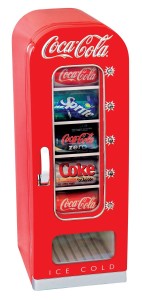 This tiny fridge that resembles an old-school vending machine holds up to 10 soda, juice, or beer cans stacked on top of each other!

#42: Camping Tool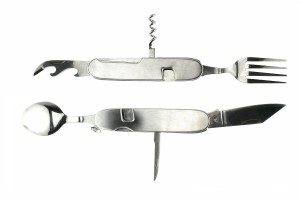 These multifunctional tools are perfect for taking on camping trips as they have knives, spoons, forks, corkscrew, bottle openers, and many other gadgets all bunched together in a single tool!

#43: Bottle Opener Fridge Magnet
This magnet will not only hold your calendars and notes on your fridge but can also aid you in opening soda and beer bottles as well!

#44: Deglon Knife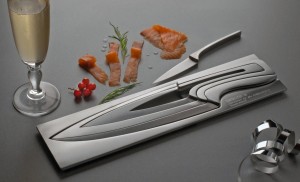 This is actually a set of 4 knives cut from seemingly the same block of stainless steel

#45: R2D2 Timer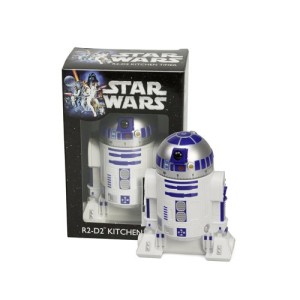 This is a R2D2 themed version of a standard 60 minute kitchen timer!

#46: Handpresso Outdoor Set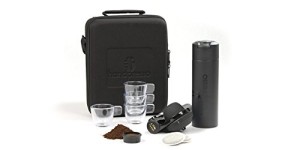 Addicted to Espresso?  Then you need some way of getting your fix when on the go, especially when you're away from civilization and this Handpresso set is your perfect solution!

#47: World's Okayest Dad Mug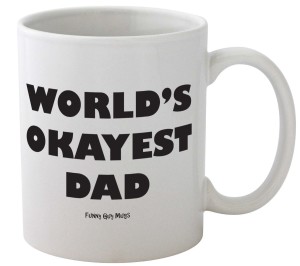 This is THE mug dedicated to commemorating the billions of OKAY dads around the world!

#48: LED Faucet Nozzle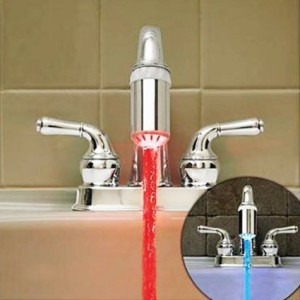 Now's your chance to have colored water running from your faucet.  The water will even change color depending on the water temperature which makes it a great safety feature if you have young kids!

#49: Picnic Table Condiment Set
This tiny picnic table has 4 slots designed for holding your condiments together just like in the photo above!

#50: Splash Chopping Board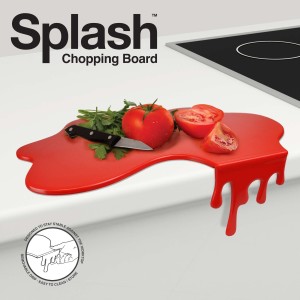 This board looks as if you've spilled some gooey red juice on the counter but it's actually a chopping board!  There's a detachable vertical drop that can help stabilize the board against the edge of the counter as shown in the above picture.

#51: Can Grip
The can grip is a comfortable way to keep your hands from getting too cold from holding an icy can.

#52: Axe Pizza Cutter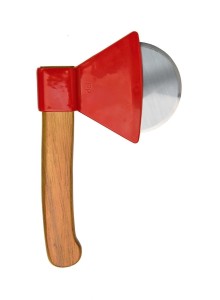 Why slice your pizza when you can chop it up into tiny bits and pieces with an axe?

#53: Zombie Head Cookie Jar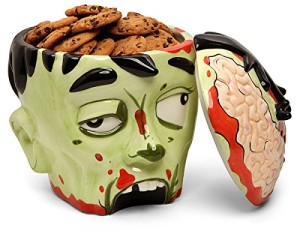 The best places to hide your cookies and candy especially from children and coworkers who are too chicken to open up the zombie brain!

#54: Dropp Bowl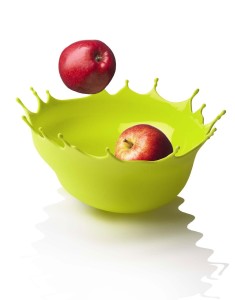 This fruit bowl is designed to resemble a splat of paint or juice the moment before it hits the ground!

#55: Zombie Head Decanter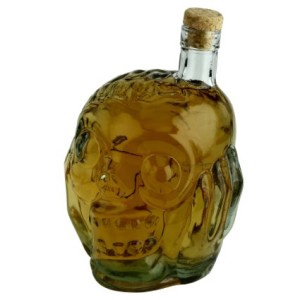 #56: Lightsaber Fork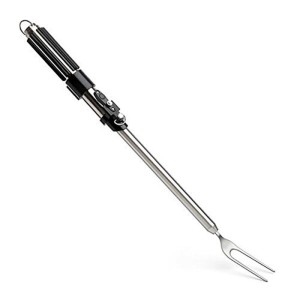 May the fork be with you, lol!

#57: Apron Cooking Guide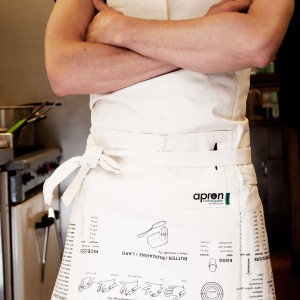 Never forget common unit conversions and recommended cooking times for various veggies and meats with a cooking guide printed right on your apron!

#58: Ice Skull Mold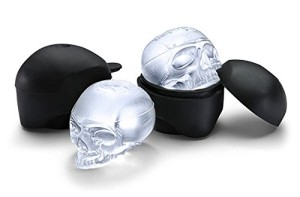 Freeze water into these skull shaped ice cubes with this specially designed mold!

#59: Millennium Falcon Ice Tray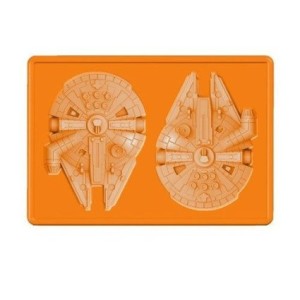 Replicate a miniature ice version of Han Solo's starship from Star Wars!

#60: Karate Lettuce Chopper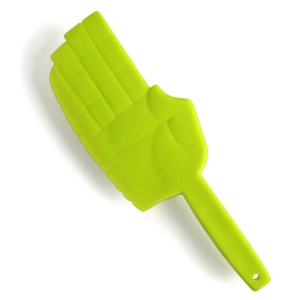 This dishwasher safe plastic hand is perfectly designed for karate chopping lettuce into smaller pieces!

#61: Minecraft Pickaxe Bottle Opener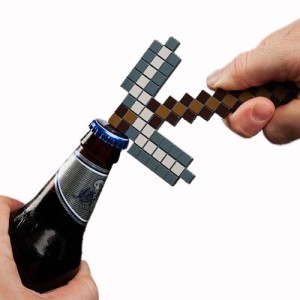 This pixelated pickaxe from Minecraft is perfect for opening soda and beer bottle caps!

#62: Ninjabread Men Cookie Cutters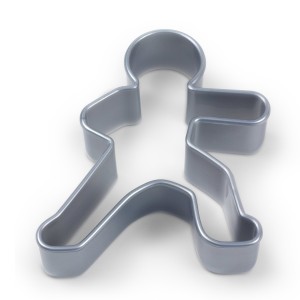 Each set includes 3 ninja cookie cutters each in a different pose.

#63: Brownie Bar Maker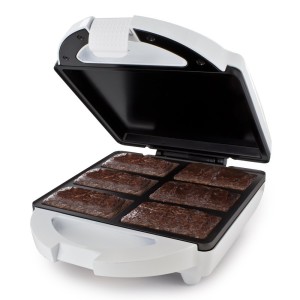 This brownie maker bakes up to 6 brownies every 5-8 minutes!

#64: Golf Cheese Board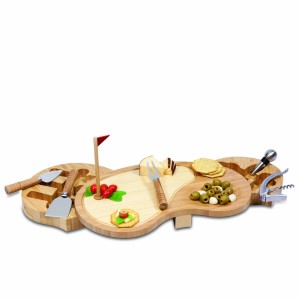 This cheese board resembles a golf course and includes 3 cheese tools and 3 wine tools!

#65: Mustache Sandwich Cutter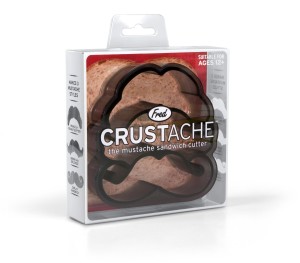 Now you can cut your sandwich into the shape of a mustache to impress your family or coworkers!

#66: Tardis Ice Bucket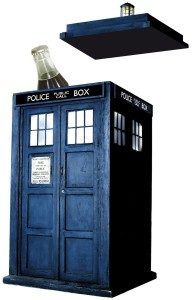 Hear the Tardis travel back in time as you open the lid to get the beer inside!

#67: Safe Kitchen Timer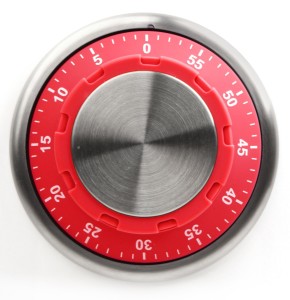 Sick of the same old kitchen timers?  Then try this one shaped like a safe and a magnet which lets you attach it to a fridge!

#68: Bite Me Toaster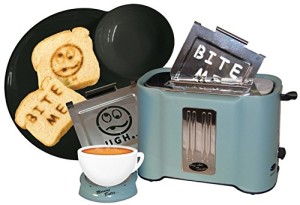 This toaster lets you bake various molds onto your bread including a smiley face, cat, the words "bite me", etc.

#69: Disco Cookie Cutter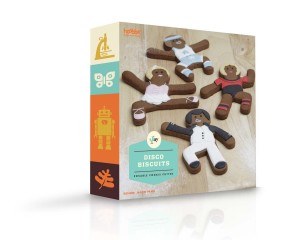 Mold your cookies into the shape of clubbers with this cutter kit!

#70: Wine Glass Strap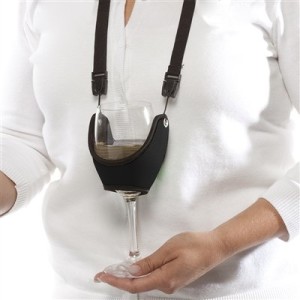 Keep both of your hands free while you take your wine glass with you using this strap!

#71: Ice Screamers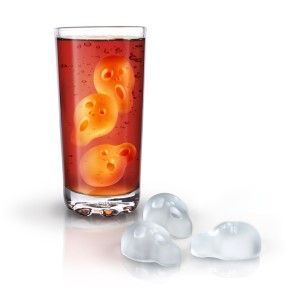 Mold your ice into the shape of ghost faces using this special ice tray!  Now you can put these pieces of ice shaped like ghosts into your friends' drinks as a prank or show them off at your next Halloween party!

#72: Han Solo Silicone Tray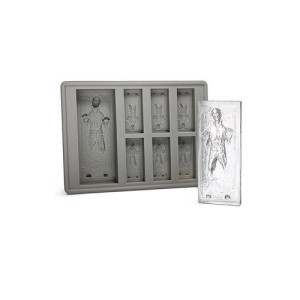 Freeze your ice into the shape of Han Solo when he was frozen in Carbonite by Darth Vader using this tray!

#73: Lemon Shark Juicer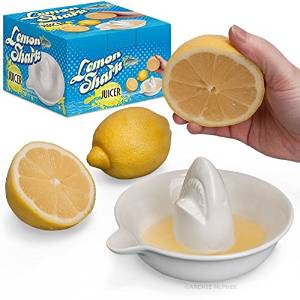 This porecelain juicer shaped like a shark's fin really helps you get every last bit out of your lemons and oranges!  It's completely safe for dishwashers!

#74: Loch Ness Monster Condiment Shaker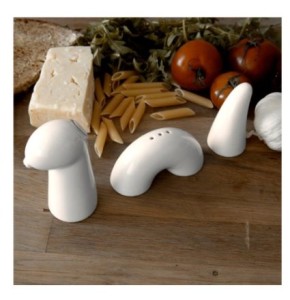 This 3 piece ceramic condiment shaker is made to resemble the loch ness monster with its body partially submerged underneath your table.  It's actually 3 containers molded to resemble the head, the body, and the tail.  Each body part can be filled with one condiment each, say, salt, pepper, and oil.  If you dim the lights at night, this set may perhaps bear much closer resemblance to the "real" Loch Ness Monster!