#1: Floating Shelves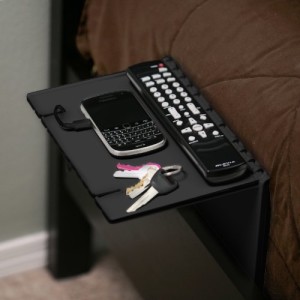 Now you can flexibly add a shelf in many places around he house.  It's very convenient if you need extra shelf space when sitting on the couch, at your desk, on the bed or recliner, etc.  You can also use it to prop up your tablet computers.

#2: Zero Gravity Chair
This reclining chair is engineered to give you a feeling of floating in zero gravity as you lay back and relax.  What a wonderful way to relax after a hard day at work or the gym!

#3: Key Holder for Couples and Newlyweds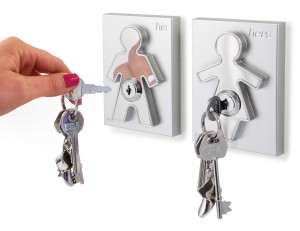 These are two key holders, one for Him and one for Her.  They can easily be installed onto the wall with just one screw each.  The keyhole in each mount allows most keys to be inserted inside and keeps your key chain attached.  Unlike hook keyc hain holders, this setup is far more stable and keeps your keys from falling to the floor which is a godsend in homes with little kids or pets!

#4: Cat Litter Box Furniture Enclosure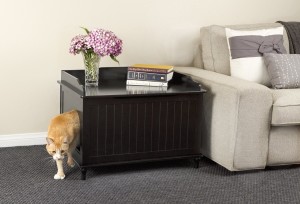 If you have a cat, you'll know that litter boxes can be unsightly for visitors.  It may not always be convenient for your cat to stick that litter box way in the back or cramped in your bathroom, especially if you have a small house or apartment.  In that case, why not kill 2 birds with 1 stone and use a litter box enclosure which also dubs as a counter?  You can put books, flowers, lamps, or other decorations on top of it which saves even more space!

#5: Portable Fireplace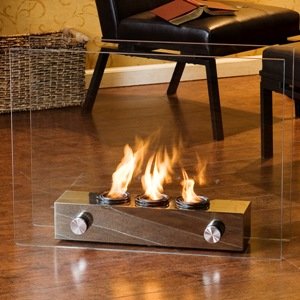 This portable fireplace runs on FireGlo gel fuel and can provide up to 3,000 BTU of heat.  It's enclosed from the sides with glass panels which provide safety without obstructing your view of the flames.  The dials to the bottom can control the intensity of the flames.  This unit is designed to be used both indoors and outdoors.

#6: Han Solo Carbonite Star Wars Wall Decal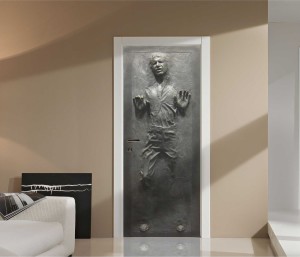 If you remember from Star Wars, Han Solo was captured by Darth Vader and frozen in carbonite before being sent to Jabba the Hutt where he displayed it as a trophy.  Now you can imitate the same trophy in your living room with this tear-resistant vinyl decal of Han Solo trapped in carbonite.

#7: Melting Clock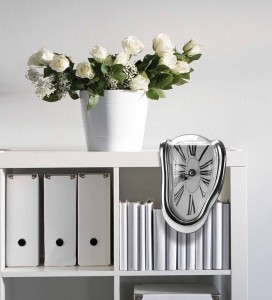 Inspired by Salvador Dali's famous 1931 painting, The Persistence of Memory, this melting clock can easily attach itself to the edge of your tables, counters. shelves, and desks.  It even has an optical illusion which makes it easy to read the time from any angle!

#8: Chicago Gaming Signature Foosball Coffee Table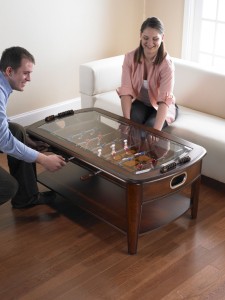 This Foosball table has a glass cover on top which allows you to use it as a coffee table as well.  It's very convenient especially in smaller homes to be able to use your foosball table as a coffee table when your guests aren't around.

#9: Luckies of London Scratch Map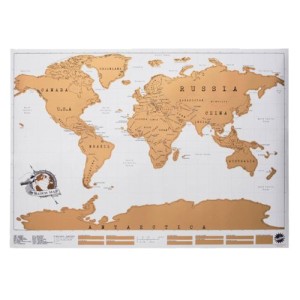 Love world travel?  Want to teach your kids world geography each time you take them to a new exotic locale or turn travel into a game of visiting every single country in the world and scratching it off of your world map to boast to your visitors?  Then you gotta have this scratch map!

#10: Portable Humidifier Using Water Bottles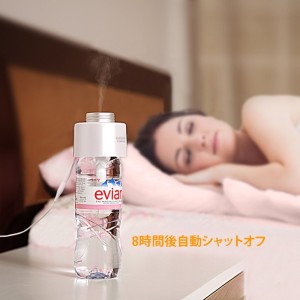 If you got a bottle filled with water and a USB power source, you'll be able to use this humidifier anywhere you go!  It'll easily attach itself to the narrow opening on top of most plastic water bottles, the kind you get from vending machines and such!

#11: Bean Bag Sofa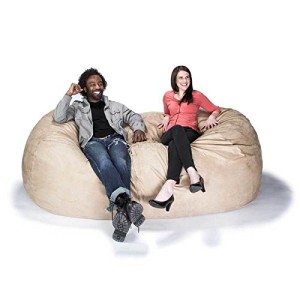 This bean bag sofa is great for lying down to watch a movie in your living room unlike standard couches since it has the flexibility to be molded which ever way you like.  It's also excellent for taking a nap or using as a guest bed.

#12: Magnet Key Holder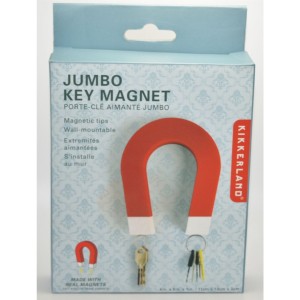 This is a magnet with a classic horseshoe shape that can be mounted on the wall so you can have it hold your keys whenever you come home!

#13: Floating Bookshelves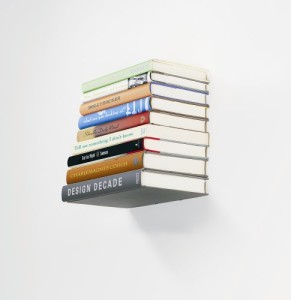 It's pretty rare to come across a cool gadget that not only causes your guests to drop their jaws in awe but also serves a highly practical purpose at the same time.  These floating bookshelves aren't just some unusual living room props to show off the next time you have a party at your place but will also allow you to store your books without having to make room on the floor for a bookshelf or take up valuable real estate on your desks or coffee tables.

#14: Aquarium Table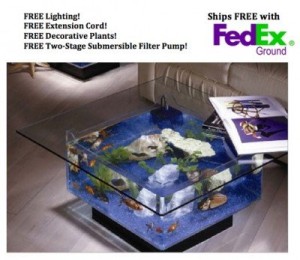 If you're thinking of getting an aquarium, considering turning your living room coffee table into one with this table!  The black base even hides the 2-stage filter included with this aquarium table.

#15: Magic Wand Remote
Get in touch with the wizard inside of you with this wand shaped universal remote control!  It's compatible with infrared codes from many providers including Comcast, AT&T, DirectTV, Samsung, Sony, etc.  You can program and assign 13 different actions (i.e. turning the power, increasing/decreasing volume, changing channels, etc.) to 13 different gestures.

#16: Portal Bookends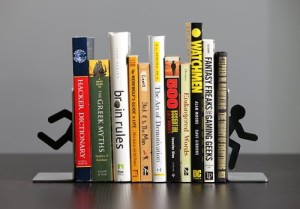 These bookends not only help keep your books upright but they also give the appearance of a person running into a wall of books and appearing on the other side.  It's a great conversation starter if you got other bookworm guests over!

#17: Giant Coffee Cup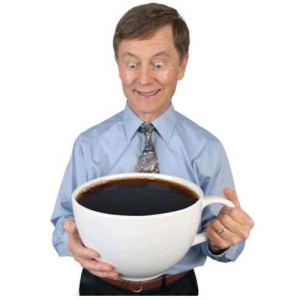 This giant coffee appears like a larger but to scale version of its normal sized cousins.  It will hold up to 20 cups of coffee.  You can also use it as a punch bowl at parties, gatherings, meetings, etc.

#18: Cat Crib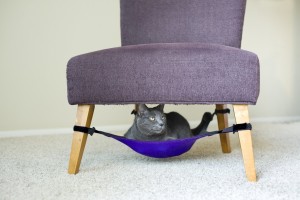 This is a cat hammock that attaches to the legs underneath a chair.  It's great for making a hiding spot for cats that easily get scared by loud noises or whenever people come over to visit.  This cat bed also saves space by not cluttering up the limited floor space in your home.

#19: Inflatable Ottoman
This 19" x 19" x 19" cube makes for an excellent prop for resting your feet.  No pump is needed; you can just blow it up with your mouth!

#20: LED Flower Pot that Changes Colors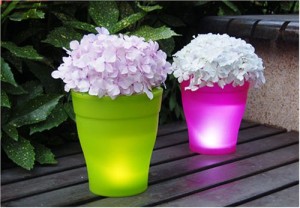 These battery powered LED flower pots will automatically rotate among 3 different colors: Red, Blue, and Green.  At night, it makes for a pretty night light or an outdoor decoration that lights up the flowers inside the pots.

#21: Coffee Table Gun Cabinet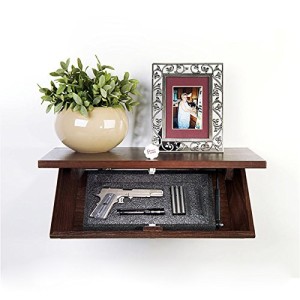 Having firearms in your home may help protect you in the case of a home invasion or other dire threat, but what if you have small children who can't be trusted with these weapons?  Hiding them in the far back reaches of your closet defeats the whole purpose as you may never be able to get to your guns in time.  Instead, you're gonna want to hide them conspicuously in this coffee table and place it in your living room which is one of the most trafficked locations in your house.  Your kids and visitors will have neither have any idea nor need to ever know what's hiding inside your table and even if they do, the weapons are securely attached using special child proof magnetic locks.

#22: Harry Potter Platform 9 3/4 Wall Sticker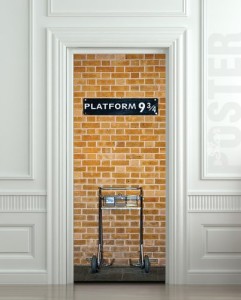 Now you can turn any door in your house into platform 9 3/4 from Harry Potter!  Just stick this self-adhesive mural of the platform on any standard sized door and you can disappear off (presumably to take the Hogwarts Express.)

#23: Teddy Bear Lamp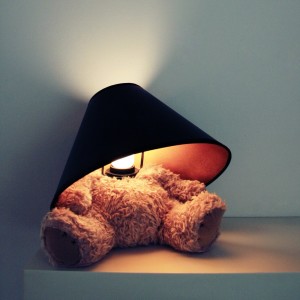 This lamp can give the appearance that a teddy bear is underneath and holding it up if you angle the shade the right way.  However, if you lift the shade up a little, you'll soon find out that the head is missing and replaced with a bulb (a little creepy, IMO.)  Still, it's a fun way to shock your visitors without having to resort to overt means like monsters, vampires, zombies, etc.

#24: Remote Control Pillow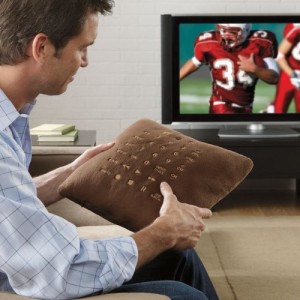 As you can probably tell by now, I'm a big fan of items that have multiple uses.  Now you can not only lie comfortably on this pillow AND change TV channels with it but you no longer have to worry about the inconvenience of losing your TV remote anymore (how on earth does a pillow that big disappear?)

#25: Darth Vader Wall Decal
This is a wall vinyl sticker decal of an octopus that has the head of Darth Vader!

#26: Zombie Sculpture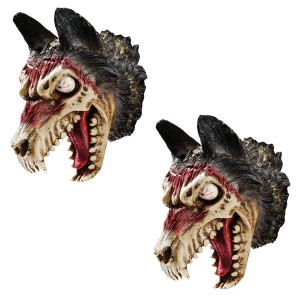 These are wall sculptures of werewolf zombie heads.

#27: Rubiks Cube Light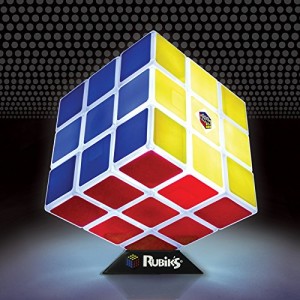 While this is device serves mainly as a desk light, it's also a fully functional Rubik's Cube.  You can play with it just like any standard Rubik's Cube but with the added benefit of a light illuminating the cube.  When detached from the USB power source, it provides around 2 hours of light for whenever you want to play the cube on those dimly lit train, plane, or car rides.

#28: Zombie Door
Transform your home into a haven in the midst of a zombie outbreak with this zombie door wall decal!  The automotive grade PVC wrap material will ensure that the decal will stick and fit on any surface on any standard sized door without damaging the surface should you choose to remove it in the future.  It's even reusable if you want to move it to another door!

#29: Sumo Wrestler Table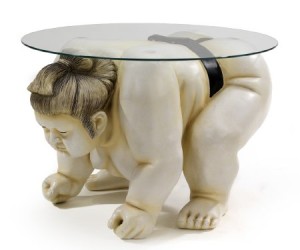 The sumo wrestler that's holding the table really exemplifies the heaviness of the objects that you've placed on the table above.  Put your heaviest books, computer equipment, and other living room stuff while the sumo plastic resin sumo wrestler below the glass table will hold it all up nicely.

#30: Zombie Wall Decal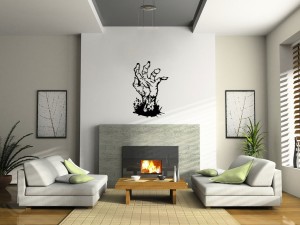 Now you can place a decal of a zombie's hand on any wall around your home!  This decal is made from high quality die-cut vinyl which is removable and won't damage your walls.

#31: Clock Aquarium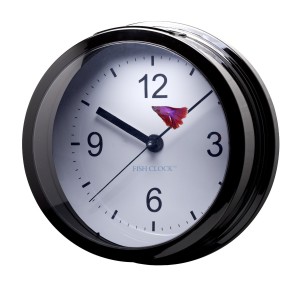 This round clock also dubs as an aquarium for betta fish.  Now you can tell time and house some lovely fish without taking up ANY floor space!

#32: Medieval Push Pins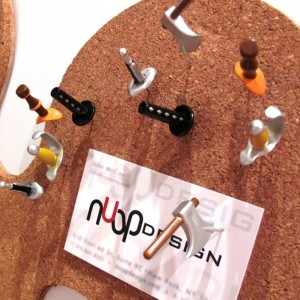 Make your bulletin board look like a torture chamber with these medieval push pins!  Each sets comes with 2 of each of the following 5 weapons: Katanas, Axes, Swords, Broadswords, and Sabres.  The bases of each pin measures roughly 1 inch long.

#33: Cat Paw Door Stop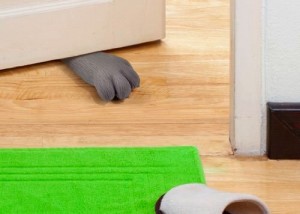 If your cats are anything like mine, they'll love to stick their paws underneath the doors whenever you're in, say, your bedroom or bathroom and they really want to get inside.  This door stop serves as a fun parody of this behavior that most cat owners have the pleasure of experiencing.

#34: Crossword Clock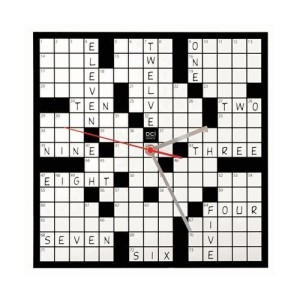 Love crossword puzzles?  Then you gotta get this crossword clock with the numbers 1 to 12 spelled out in their respective positions on a crossword puzzle game board.  The clock can be hung on a wall like a portrait or painting via the keyhole opening on the back and runs on a single AA battery.

#35: Soldier Door Stop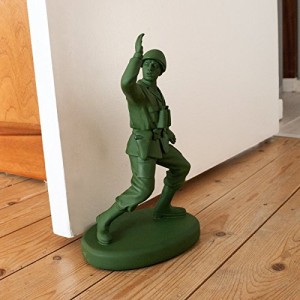 While having a real soldier faithfully guarding your door 24/7 might be too much to ask for, this soldier door stop is the next best thing.  It'll at least keep your door from inadvertently slamming shut.

#36: Microfiber Mop Ball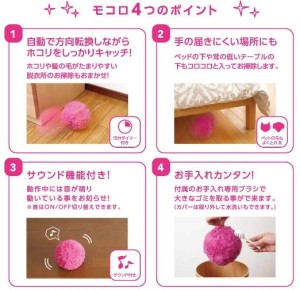 This microfiber mop ball is actually one of the latest innovations in robotic cleaning, this time coming from Japan.  It is programmed to automatically roll around the home cleaning the nooks and crannies that you may not be reaching on a regular basis like under your couches and desks.  The fur on the exterior of the ball actually consists of countless microfibers which attracts the dust on the floor as it rolls around.  Once you're finished or when the ball has picked up a substantial amount of dust, you can simply turn it off and clean the surface using the special brush that's included.  It's very simple  and elegant to operate: all you have to do is set the ball up to clean your floor and periodically clean off the dust.